Jackie Traverse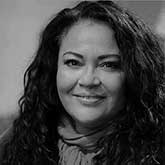 Cultural Background: Anishinabe, Lake St. Martin First Nation
Jackie Traverse is a multi-disciplinary First Nation female artist who calls the city of Winnipeg home. A large portion of her work contains a combination of popular and traditional cultural reflections, which she portrays through her knowledge of urban living, contemporary visual art, traditional craft, and her own cultural practices. She works in many mediums from painting in oils and acrylics to mixed media, sculpture and stop motion animation.
Traverse is widely known in art communities across Canada. Her paintings, drawings, documentaries, and sculptures speak to realities of being an Aboriginal woman. She has created stop-motion animation on missing and murdered women in Canada, another on the sixties scoop titled "Two Scoops" and "Empty" a tribute to her estranged mother. Jackie is deeply moved by the injustices faced by First Nations people. She is committed to her community and teaches art in public schools, which bring together the traditional teachings of the First Nations to various cultures.
Origine Culturelle: Anishinabe, Première Nation Lake St. Martin
Jackie Traverse est une artiste Première Nation multi-disciplinaire qui considère la ville de Winnipeg sa maison. Une grande partie de son travail contient une combinaison de réflexions culturelles populaires et traditionnelles, qu'elle représente grâce à ses connaissances de la vie urbaine, d'art visuel contemporain, d'artisanat traditionnel et de ses propres pratiques culturelles. Elle travaille sur plusieurs supports depuis la peinture à l'huile et à l'acrylique à des médias mixtes, la sculpture et l'animation d'arrêt de mouvement.
Traverse est très connues parmi les communautés artistiques partout au Canada. Ses peintures, dessins, documentaires et sculptures parlent des diverses réalités d'être une femme aborigène. Elle a créé une animation d'arrêt de mouvement portant sur les femmes portées disparues et assassinées au Canada, une autre sur la rafle des années 60 intitulée « Two Scoop », et « Empty » : un tribut à sa mère lointaine. Jackie est profondément touchée par les injustices affrontées par les peuples des Premières Nations. Elle est engagée envers sa communauté et enseigne l'art dans les écoles publiques. Portant ainsi les enseignements traditionnels des Premières Nations à diverses cultures.
Portfolio
Showing 1–36 of 104 results