William Monague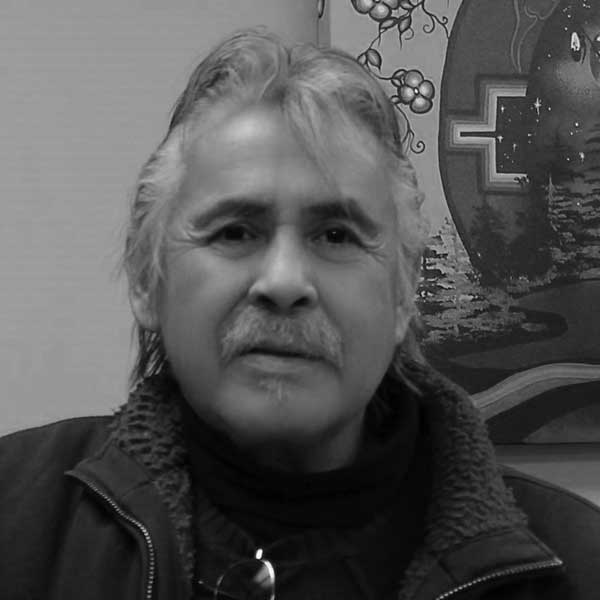 Cultural Background: Ojibway – Christian Island, southern Georgian Bay, Ontario
The self-taught Beausoleil First Nation artist, William Anthony Monague, grew up on an isolated island with no access to formal education or training in the arts.  Monague – "Abwaudung" (The Visionary or Dreamer) discovered inspiration in the traditional teachings of Mother Earth, Spirit World and in the beauty of nature and in the Georgian Bay shores that surrounded him. Initially he was using the woodland style but soon developed his own more contemporary style of art. During the 1970's and 80's Monague followed the Pow Wow circuit in a van with his family down to Mexico. His work ended up in various museums and galleries along the way. Monague donates his time and artwork to many worthwhile causes, while helping others. "I feel my art speaks to my culture. I have made a name for myself with my work and reputation but it has taken a long time." After 45 years of painting, he continues his artistic lifelong journey with his family.
"Sharing Anishnabek Culture through the Spirit of Color"
His Art Studio is located in his century old family home in downtown Midland, Ontario and not too far from the shores of Georgian Bay.
*********************************************************
Origine Culturelle: Ojibwé – île aux Chrétiens, extrémité sud de la baie Géorgienne, en Ontario
L'artiste autodidacte originaire de la Première Nation de Beausoleil, William Anthony Monague, a grandi sur une île isolée sans accès à une éducation ou une formation artistique formelle. Monague dit « Abwaudung » (le Visionnaire ou le Rêveur) a puisé son inspiration dans les enseignements traditionnels de la Terre nourricière, du Monde spirituel, dans la beauté de la nature et sur les rives de la baie Géorgienne qui l'entouraient. À ses débuts, le bois constituait son matériau de choix, mais très vite il a développé son propre style artistique plus contemporain. Au cours des années 1970 et 1980, Monague a suivi le circuit des Pow Wow avec sa famille dans une fourgonnette jusqu'au Mexique. Ses œuvres ont garni les vitrines des musées et des galeries au fil des années. Monague consacre de son temps et ses œuvres d'art à de nombreuses causes nobles et apporte de l'assistance à plus d'un. « J'estime que mon art reflète ma culture. Ma réputation, je la dois à mon travail. L'acquisition de cette dernière ne s'est pas faite en un jour. » Après 45 ans dans la peinture, il continue son aventure artistique de toute une vie aux côtés de sa famille.
« Promouvoir la culture Anishnabek à travers l'esprit de la couleur »
Son atelier de dessin est situé dans sa résidence familiale centenaire du centre-ville de Midland, en Ontario à quelques encablures de la baie Géorgienne.
Portfolio
Showing 1–36 of 81 results