Lorne Julien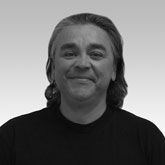 Cultural Background: Mi'kmaq
Lorne Alexander Julien is from Millbrook First Nation, Nova Scotia. His Mi'kmaq name is "Warrior on the Hill". It was given to him in his youth when he learned about the spiritual way of his people. He is also a self-taught artist who began drawing and painting as a young child. He uses bright colours and believes simplicity is beautiful. He wants to share his art work and lift people's spirits with ideas taken from his visions and dreams. Eagles are his favorite subject material as they are well-respected amongst his people, with the ability to fly highest toward the Creator.
*************************************************************************************
Arrière-plan culturel : Mi'kmaq
Lorne Alexander Julien est originaire de la Première nation Millbrook, en Nouvelle-Écosse. Son
nom mi'kmaq est « guerrier sur la colline ». Cela lui a été donné dans sa jeunesse quand il a
découvert la voie spirituelle de son peuple. C'est aussi un artiste autodidacte qui a commencé à
dessiner et à peindre dès son plus jeune âge. Il utilise des couleurs vives et croit que la simplicité
est belle. Il souhaite partager son travail artistique et éveiller l'esprit des gens avec des idées
tirées de ses visions et de ses rêves. Les aigles sont son domaine d'étude préféré car ils sont très
respectés parmi son peuple, avec la capacité de voler plus haut vers le Créateur.
Portfolio
Showing all 34 results