Karen Erickson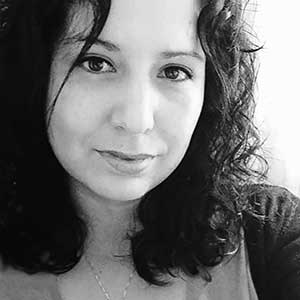 Cultural Background: Métis Cree, Prince George, BC
Born in Prince George, BC, Canada, Karen is a spectacular self-taught Metis-Cree artist. Her passion to create artistic masterpieces started in her childhood days, and today she is a successful artist who takes pride in connecting with people through her beautiful work.
Inspired by nature, animals and the people in her life, Karen paints stories through her art. She often finds herself dreaming of her next creative idea, which she meticulously translates onto a medium with her special skills. While acrylics, oil and etching are some of her favorite mediums to play around with, Karen's artwork can be found on rocks, glassware, driftwood, canvas and feathers. She enjoys juggling her time working for Métis Nation BC, while also creating custom-made paintings on request.
Origine culturelle : Métisse et Crie, Prince George, en Colombie-Britannique
Née à Prince George, en Colombie-Britannique, au Canada, Karen est une remarquable artiste autodidacte métisse et crie. Son désir de créer des chefs-d'œuvre artistiques lui est venu dès l'enfance. Aujourd'hui, elle est une artiste accomplie qui est fière de s'exprimer par son art et de toucher les gens par ses œuvres magnifiques.
Inspirée par la nature, les animaux et ses proches, Karen raconte des histoires au moyen de son art. Ses idées lui viennent souvent en rêve, qu'elle sauvegarde en les transposant sur un support dont elle maîtrise la technique. Karen a une prédilection pour l'acrylique, l'huile et la gravure, mais elle incorpore parfois d'autres matériaux à ses œuvres, tels des pierres, du verre, du bois flotté, de la toile ou des plumes. Elle partage son temps entre ses fonctions à la Métis Nation BC et son travail de création, qui comprend aussi des commandes d'œuvres personnalisées.
Portfolio
Showing 1–36 of 62 results