Jonathan Erickson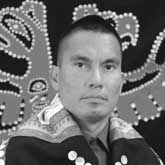 Cultural Background: Gitksan
Born in Terrace, B.C., Jon Erickosn is from the Nak'azdli Band of the Gitksan Nation.
In 2011, Jon began working with Haida artist Clarence Mills to learn engraving techniques and formline designs. He then studied under Nisga'a artist, Robert Tait, at Vancouver's Native Education College in 2012, where he graduated (top of the class) from the college's Northwest Coast Jewelry Arts Program, receiving the Artistic Achievement Award. After graduation, Jon began volunteering at the college which led him to work as an Instructional Assistant in the Jewelry Arts Program under Robert Tait's guidance. By 2017, Jon became the Program Coordinator for the Northwest Coast Jewelry Arts Program.
"My plan is to continue our traditions of storytelling through our art."
*************************************************************************************************************************
Origine Culturelle: Gitksan
Né à Terrace, en Colombie-Britannique, Jon Erickson est originaire de la bande Nak'azdli de la nation Gitksan.
En 2011, Jon a commencé à travailler avec Clarence Mills, artiste haïda, pour apprendre les techniques de gravure et les conceptions de formes. Il a ensuite étudié avec l'artiste nisga'a, Robert Tait, au Native Education College de Vancouver en 2012, où il est sorti lauréat du programme d'arts joailliers de la côte nord-ouest du collège et a reçu le prix de la réalisation artistique. Après avoir obtenu son diplôme, Jon a commencé à faire du bénévolat au collège, ce qui l'a amené à travailler en tant qu'assistant d'instruction dans le programme d'arts joailliers sous la direction de Robert Tait. En 2017, Jon est devenu le coordinateur du programme d'arts joailliers de la côte nord-ouest.
« Mon objectif est de pérenniser nos traditions de narration à travers notre art. »
Portfolio
Showing all 30 results